The secret's out! Pink Pop Tarts are out and they're the perfect way to start your day. Not only are these breakfast treats homemade and easy to make, but they also show your support for breast cancer awareness.
Filled with delicious strawberry jam and topped with sprinkles, these Pink Pop Tarts will have your tastebuds begging for more. Scroll down for the recipe and get baking!
October is a month of good things. You probably already know that October is Tailgating Snack Month on Life Currents. There's the simple goodness of October being fall! And, October is Breast Cancer Awareness Month. So in honor of this wonderful month, I bring you a Pink Pop Tarts Recipe!
We appreciate your support
This post may contain affiliate links. Life Currents participates in different affiliate programs. As an Amazon Associate I earn from qualifying purchases. For more information see here.
Please let me know if you have any questions about this recipe. I read all the comments myself and I try to help as soon as I can. I have readers from all levels of comfort and experience in the kitchen on my site, and I've tried to answer some of your questions already in the post. But if I've missed anything, please feel free to leave a comment and ask.
Tailgating snacks month
I'll be bringing you lots of cool things this month.
In honor of Breast Cancer Awareness Month I'm participating in Cooking for the Cure with some wonderful bloggers!
Susan G. Koman
Susan G. Komen states that, "in 2015, it is estimated that among U.S. women there will be 231,840 new cases of invasive breast cancer".
And, "in 2015, it is estimated that among men in the U.S. there will be 2,350 new cases of breast cancer."
You know, we often hear about breast cancer, but what exactly is it? Again, I went to Susan G. Komen for the defination.
They state, "breast cancer occurs when cells in the breast divide and grow without their normal control. Tumors in the breast tend to grow slowly. By the time a lump is large enough to feel, it may have been growing for as long as 10 years. (Some tumors are aggressive and grow much faster.)"
Take a look here for warning signs of breast cancer.
I've been touched by breast cancer. My maternal Grandma had radical mastectomy to remove breast cancer, and later had radiation therapy for cancer in her lymph nodes.
My Grandma's sister also had breast cancer, having to have first one breast, then the other removed. More recently, my second cousin was diagnosed with breast cancer, which I'm happy to say she is cancer free now.
Cooking for the cure
So, I am happy to participate in Cooking for the Cure, and to help bring some more awareness to breast cancer.
If you'd like to learn more about what you can do to help please check out these organizations: Susan G Komen Foundation and National Breast Cancer Foundation.
Pretty in pink
I started talking to my husband about what I could make that was pink, fun, and happy (because all too often I think we can become saddened and overwhelmed by things such as breast cancer that are so large, and I want to keep an upbeat outlook on life).
Well, he really wanted me to make Pop Tarts for him.
He got really excited about these pop tarts, and his face just lit up at the idea of getting homemade pop tarts. Hmm, pop tarts for the cure? Sounds good to me.
Hand pies
Since I've already made some Blackberry Nutella Hand Pies with pie crust I decided to make these Pink Pop Tarts with puff pastry.
But, if you prefer pie crust (as my husband does), it's basically the same directions, just use pie crust instead of puff pasty.
You can also take a look at that Blackberry Nutella Hand Pie recipe for pictures and details.
Now, don't skip the egg wash step on these little pockets. Since the jam becomes liquid as it heats it will seep out of the pockets as they bake. I had a couple seep out so basically you're left with a strawberry flavored puff pasty.
Still super delicious, but not exactly what you're looking for here. I also baked up some Pop Tarts with pie crust for the husband. Both were great.
He liked the pie crust ones a lot more; while I preferred the puff pasty ones. I also made a few using cherry jam ('cause it's my favorite!) instead of strawberry jam, and they were awesome!
These Pink Pop Tarts are great for Tailgating Snacks Month as well because they can be made ahead of time, and if you tailgate early in the day, you can eat them for breakfast, or eat them as a dessert at the end of the evening at the tailgate!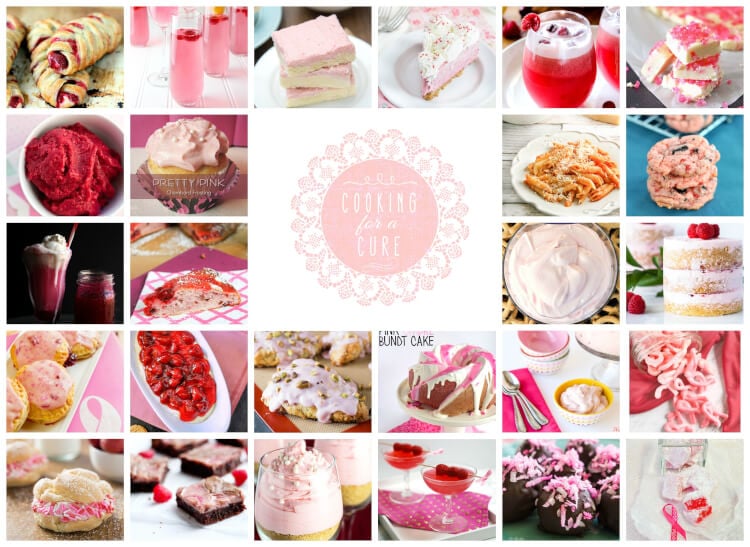 Check out all the recipes involved
Strawberries & Cream Pastries by Domestic Superhero /
Strawberry Frosted Sugar Cookie Bars by Like Mother, Like Daughter /
No Bake Raspberry Cheesecake by Sugar & Soul /
Cranberry Raspberry Punch by Carlsbad Cravings /
Pink Rock Candy Fudge by Kleinworth & Co. /
Raspberry Sorbet by Food, Folks, Fun /
Strawberry Oreo Cake Mix Cookies by Just Us Four /
Cherry Pie Scones by The Bitter Side of Sweet /
Pink Fluff Dip by Mamal Diane /
Pretty Pink Raspberry Vanilla Mini Cakes by Liv for Cake /
Glazed Cherry Buttermilk Scones by Tastes of Lizzy T /
Raspberry Vanilla Pink Ombre Bundt Cake by Cookie Dough and Oven Mitt /
Berry Bliss by 365(ish) Days of Pinterest /
Meringue Cookies by Mama Loves Food /
Cream Puffs with Strawberry Filling by Cooking on the Front Burner /
No Bake Pink Lemonade Cheesecake Parfaits by Homemade Hooplah /
Vanilla Berry Cocktail by Twin Stripe / Snowball Truffles by House of Yumm /
Let's keep in touch
If you like seeing my recipes subscribe via email in the upper right.
Or, connect with me on your favorite social media channel for recipes, photos, & much more:
Pinterest, Facebook, Instagram, YouTube and Twitter!
And find my shop on Amazon for recommendations on cool tools
If you try this recipe,
please come back & leave a comment below letting us know how it goes.
Share a picture & tag @lifecurrents on Instagram.
Or you can upload a "tried it" photo (I would love to see)
via the pin.
Recipe
Pink Pop Tarts
Easy to make and so yummy. Great for breakfast or snack. Pink pop tarts will be loved by young and old.
Ingredients
Pop tarts
2

2 puff pastry sheets

Strawberry Jam

1

egg white
Instructions
Make pop tarts:
Allow puff pastry to come to room temperature according to package directions, usually approximately 40 minutes. Preheat oven to 400° F.

On a floured surface, unroll one puff pastry sheet. Gently press the pocket maker to make marks for 6 pockets. Place 2 tablespoons of strawberry jam on each pocket, being careful not to fill too close to the edge.

In a small bowl, gently mix the egg white. Using a pastry brush, brush the beaten egg white around the inside edge of the pocket to create a tighter seal.

Roll out the second sheet so it's slightly larger than the first, and place on top of the first sheet. Gently press down around the filling so you can see the shape. Place pocket maker on top, and press down firmly to seal the pocket. Remove excess dough. Place pocket on a cookie sheet using a thin spatula.

Bake at 400 ° F for 15-20 minutes, until golden brown. Remove tray from oven, and allow pop tarts to cool on the cookie tray for a couple of minutes, then remove them to a cooking rack. Once they have cooled spread icing over the top. I garnished mine with pink sprinkles as well.
Make icing:
Place strawberry jam and butter in a small microwavable dish, and heat until melted, about 30 seconds, stirring after each 15 seconds.

Place powdered sugar, vanilla, and salt in a large bowl, and stir in melted jam mixture. Add milk to achieve desired consistency.
Notes
Any extra icing may be stored in the fridge or the freezer and microwaved again for a few seconds to bring it back to soft consistency.
Nutrition
Calories:
334
kcal
Carbohydrates:
84
g
Protein:
7
g
Fat:
34
g
Saturated Fat:
10
g
Polyunsaturated Fat:
4
g
Monounsaturated Fat:
18
g
Trans Fat:
1
g
Cholesterol:
8
mg
Sodium:
316
mg
Potassium:
78
mg
Fiber:
1
g
Sugar:
45
g
Vitamin A:
100
IU
Vitamin C:
1
mg
Calcium:
20
mg
Iron:
2
mg
Nutritional information is based on third-party calculations, and should be considered estimates. Actual nutritional content will vary based on brands used, measuring methods, portion sizes, and more.