Here are some reader favorites you may enjoy! Most Popular Recipes of 2017: the year in review!
I really enjoy doing this "Most Popular Recipes of 2017: the year in review" at the end of each year. It's really interesting to me to see what hits with you guys! Thanks for being here with me, and thanks for your continued support!
My year:
2017 was the year that we had major construction done on our house. It was so needed, and I love how it turned out. But it was difficult dealing with the banging and my house being a mess all the time. I kept saying that I wanted to do a post about "How to Survive House Construction" because I learned so much about that. I still may do that post; I can see how what I learned might help other people deal with the chaos of major construction on the house they're living in.
I had a fabulous summer this year. We saw so many things and did so many new things. It was my goal to do and experience new things in a familiar place. And, it was a much needed change of pace. We took classes, went new places, looked around at new things. So much fun! I plan to keep that type of learning and growing going even into the new year.
Have you tried any of the top 9? Which one is on your "must make" list?
I admit that sometimes I didn't feel like cooking at all. And, that can be a bit of a problem when you're a food blogger. It helps that my husband likes to cook, and so a few of his recipes showed up again this year. Dan made these Oil-Free Oven French Fries with the help of our new counter-top oven. And, although the recipe post is from 2013, I took new pictures of our French Bread Pizza recipe with Dan's help (I've said before that I think he would be a happy camper if we had pizza for every meal). He made one of our most popular recipes of Dakota Bread (see below for listing and description).
My birthday dessert (Lemon Soufflé Cheesecake) this year showed up as our #4 most popular. Dan makes a special dessert for me each year. In 2017 he not only made the dessert, but he choose the recipe at my request so that I didn't have to do any work for it! In fact, Dan is responsible for 3 of the top 9 recipes this year! Pretty impressive since this isn't his full time gig.
As a special bonus, make sure to scroll down all the way this year, as I've added some of my friends' top 2017 recipes to my list, so you can gather up as many awesome must make recipes as possible.
Here are my 9 Most Popular Recipes of 2017: the year in review, as determined by page views:
And, be sure to check out Pinterest, as many people add their reviews there. I love reading what you guys like and how you change the recipes! Of course feel fee to come back here and leave a comment on recipes you've tried as well.
I love this mayonnaise free Avocado Tuna Salad Sandwich. Add in your favorite sandwich fillings like lettuce, tomato, green onions and you have yourself an easy to make, heart-healthy lunch. See it and Pin it on Pinterest.
One of my most popular recipes is one for Cranberry Pecan Chicken Salad. Which always makes me laugh, because I'm a vegetarian, and have never tried that salad. I've made it many times for my husband, and he always tells me it's great. But, I wanted to come up with a vegetarian version. So, this Cranberry Pecan Broccoli Salad is my veggie version of that popular recipe. A little sweet, a little tart, and all yummy. It has everything you want in a great salad. Perfect for potlucks and holiday meals too. See it and Pin it on Pinterest.
This Hot Crab Dip is amazing! Cheesy. Sweet crab meat. Creamy. So good. Perfect for serving at holiday parties or family gatherings. This one's baked in the oven. I also have a hot crab dip that's made in the slow cooker or crock pot. See it and Pin it on Pinterest.
Super east and really delicious. These Waffle Iron Hash Browns are my husband's recipe. These Waffle Iron Hash Browns are so fun at breakfast time. Serve them on the side with some scrambled eggs, or put them in a breakfast sandwich or breakfast burrito. These are super kid-friendly too! BTW, I think if they are husband approved, they are kid friendly! hee hee. See it and Pin it on Pinterest.
Healthy and yummy. We make this One Tray Southwestern Veggie Bake all the time around here. It's great as is, or use it for stuffing into a taco or burrito. Serve it with a poached egg on top for breakfast. I also love how easy this is to make – just some chopping and oven time. See it and Pin it on Pinterest.
This Lemon Soufflé Cheesecake was my birthday dessert for 2017. Dan chose the recipe this year, so I didn't have to do anything. And, this light and fluffy cheesecake is delicious! I love lemon desserts! See it and Pin it on Pinterest.
This comforting and easy to make Pot Pie Soup is based off of one of my most popular recipes for Vegetarian Pot Pie. Pot Pie was one of the things I missed when I became vegetarian. But it so easy to make it yourself, and it's so good. There's no need to have to buy those little frozen ones. And this soup is creamy and delicious, a fun twist on the classic. Serve it with some homemade buttermilk biscuits, and you have a classic yummy meal. See it and Pin it on Pinterest.
Another wonderful recipe from my husband. This Dakota Bread is full of seeds and whole grains. It's so good with dinner, breakfast, as a sandwich bread. Heck, anyway you can think, this is great! See it and Pin it on Pinterest.
I served these creamy Crab Stuffed Baked Red Potatoes for Christmas eve dinner, and they were a huge hit. Fun, little packets of yumminess. I love that they are just a little bit of richness in an earthy baked potato. See it and Pin it on Pinterest.
Want to see past year's greatest? Here they are: 2016; 2015; 2014.
Most Popular Recipes of 2017: the year in review for some of my awesome blogger friends:
If there's one thing we know to be true, it's that the internet is the ultimate place to find recipes of all kinds. You can find a recipe for just about anything these days! But how do you know which recipes are the best of the best? I've made it easier for you by rounding up some of 2017's best recipes published online.
We're talking breakfast, lunch, dinner, and dessert from some of the most popular, mouth-watering food blogs out there. These food bloggers combed through their website analytics to find their #1 post of the year. These recipes were the most visited on their blogs and are all here for you in one round up. Big thanks to these amazing food bloggers and all the hard work that goes into creating these drool-worthy recipes each and every day.
Here are some of the best recipes food bloggers brought us this year!
Chicken Penne Alfredo for Valentine's Day | Cupcake Diaries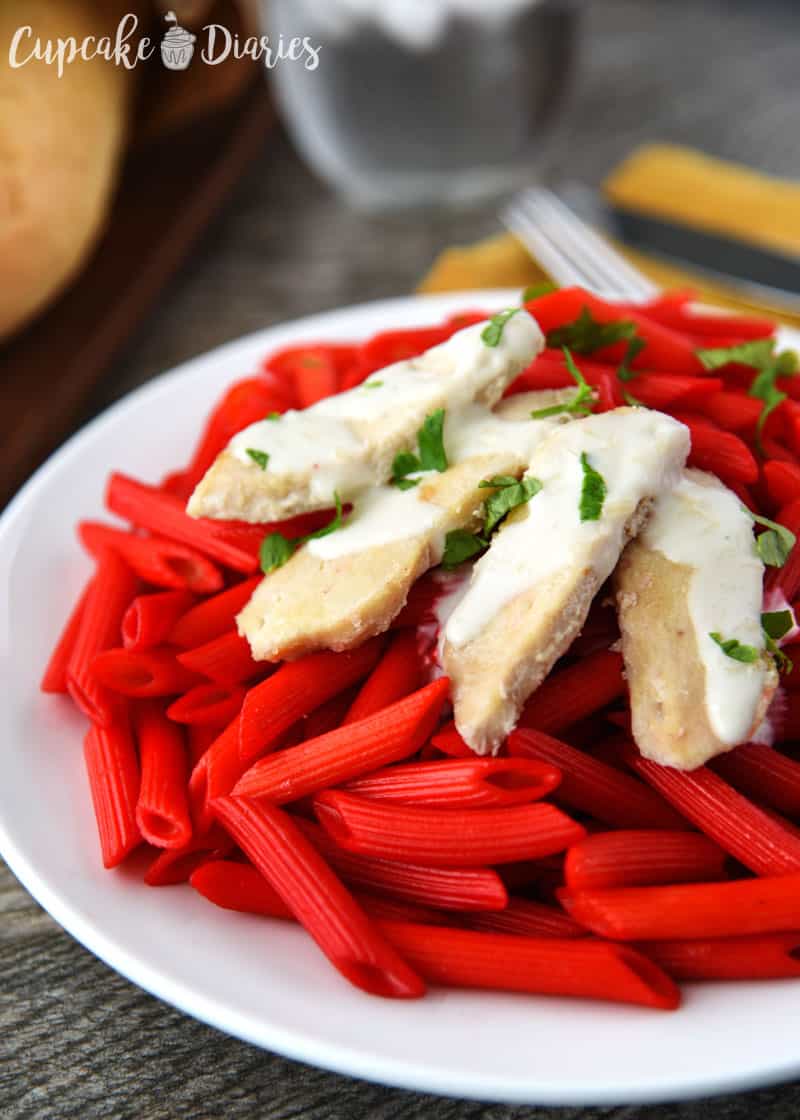 Mom's Meat Lovers Lasagna | Clarks Condensed
10 Minute Instant Pot Spaghetti | The Typical Mom
Deluxe Egg Salad | Num's the Word
County Fair Funnel Cakes | Love Bakes Good Cakes
Turkey Leg Treats | Simple and Seasonal
Peach Upside Down Cake | An Italian in My Kitchen
Slow Cooker Beef Broccoli | Kleinworth & Co.
Butterscotch Bundt Cake | Persnickety Plates
Blueberry Pancakes | Creations by Kara
Garlic Meatballs and Pasta | Love Foodies
Pressure Cooker Lasagna Soup | Who Needs a Cape?
Frozen Butterbeer | Housewife Eclectic
29 Slow Cooker Soups | Like Mother Like Daughter